Best Yarra Valley Wineries
Fergusson Winery in Yarra Valley is well known and popular among wine tasting tour providers and wine lovers alike.
Good wines available for free tasting, warm rustic style restaurant with an open fireplace (so good in winter!) and hearty food cooked by Master Chef Louise Fergusson herself. The owner of the winery and a renowned chef.
Fergusson Winery has been run by Fergusson family for more than 45 years, since 1968, when the very first vineyard was planned by brothers – Peter and Michael Fergusson .
The undisputed advantage of this winery is it's vines. We all know that, as a rule, the older the vines – the better the wines coming from them. Well children, Fergusson Winery is blessed to have one of the oldest vines in the Yarra Valley region.
Fergusson winery, restaurant and cellar door in Yarra Valley… 
---
The grape varieties planted at Fergusson's are common to the Yarra Valley wine growers and represent classic big French – Pinot Noir, Chardonnay, Cabernet Sauvignon and Shiraz. With some of the vines being the original bunch planted in the earlier years of vineyard. This results in making an exceptional wines from these "older vines" with intense flavours and rich aromas.
We at Three Koalas Winery Tours of Yarra Valley like to have a wine tasting at Fergusson Winery when our tour itinerary includes winery lunch as well. In our opinion – the Fergusson Restaurant is an ideal place to have good size, beautifully cooked, healthy and decently priced honest meal.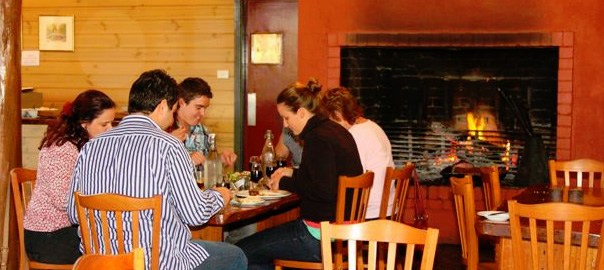 Open Fireplace at Fergusson restaurant…
---
We have introduced a selection of regional dishes prepared from the finest Yarra Valley produce. Matched with premium Fergusson Yarra Valley wines, diners are certainly in for a treat!
Like a famous Fergusson's spit roast slowly cooked to perfection over an open fireplace inside the restaurant.
No wonder that the Fergusson's is the first winery/restaurant in the Yarra Valley that was accredited by the Victorian Wineries Tourism Council.
Here is a location map of Fergusson Winery would you decide to visit it by yourself.
---