James Halliday's Australian Wine Companion is the best known online guide to wine in Australia. It is sort of a "Wine Bible" for everyone who wants to find the best Australian wine reviews & tasting notes.
James is an undisputed guru of Australian wine. He is the wine writer and critic, winemaker, and senior wine competition judge. Every year he publishes his renown "all you need to know" about Australian wine and Australian wineries online and paper copy of his Australian Wine Companion…
In 2016 he has published his Hand Picked Yarra Valley Wineries Map. This would be your top guide to the best wineries in the Yarra Valley from the respected wine guru himself.
Why would you need to invent a wheel when all this hard ground work of tasting and choosing has been already done for you? And done by the most qualified professional to!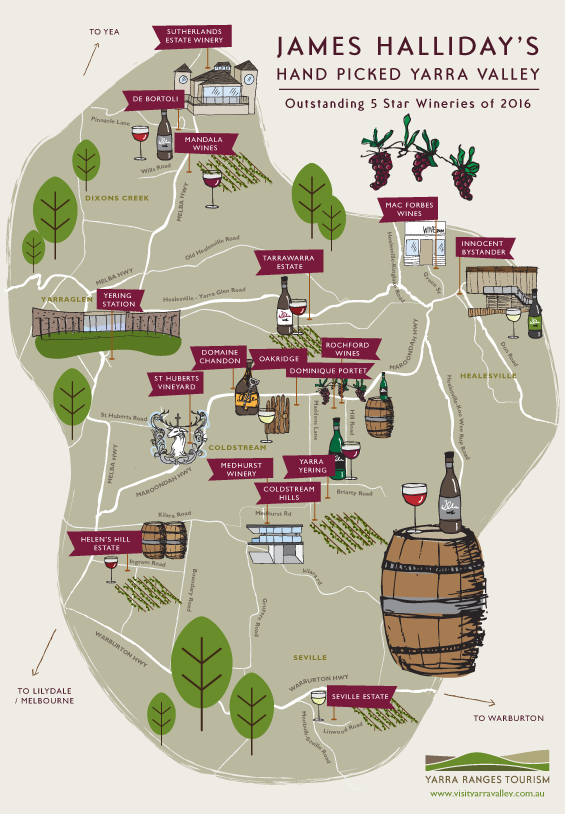 Melbourne's Yarra Valley official website – Visit Yarra Valley introduces the James Halliday's Hand Picked Yarra Valley Wine Map.
For those of you who would like to go on self-guided wine tour of Yarra Valley we strongly recommend to download your James Halliday's PDF Yarra Valley wine map here:
HAND PICKED YARRA VALLEY MAP
And enjoy your Yarra Valley adventure!