Best Yarra Valley Wineries.
Yarra Yering Vineyards was established in 1969 by Dr Bailey Carrodus who was an academic and scholar in horticulture and winemaking.
Before establishing Yarra Yering Vineyards Dr Bailey spent many years in research into plant physiology at Queens College, Oxford University and traveled to France, Spain, Portugal and Italy doing research in this field. Then he took a position in the botany department of Melbourne University.
Would you agree, that not often we come across a winery with such an academically qualified founder?
Anyway, in 1969 Dr Bailey found a perfect spot for his first vineyard and established it there.
It was something I intended to start when I retired, but when I returned from Oxford, the land that is now Yarra Yering Vineyard was available
Now Yarra Yering is one of Australia's most recognized brand with strong international reputation.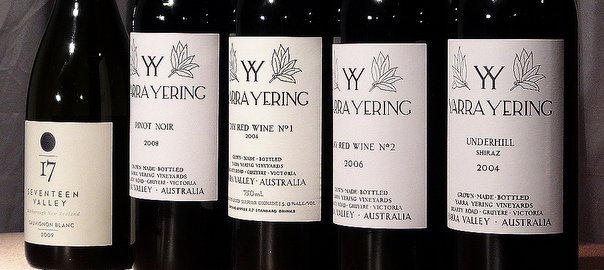 Winery offers an extensive tasting of some of the Yarra Valley's most iconic wines
---
Yarra Yering produces powerful yet elegant young wines, very approachable, with complex nature and ability to further develop in the bottle.
In other words – pretty much everything you would normally expect from the real quality wines.
No wonder, that at Three Koalas Wine Tours from Melbourne we make all the effort to include Yarra Yering Cellar Door tasting in our Yarra Valley winery tours itinerary.
All vines at Yarra Yering are grown on a northerly slope of the Warramate hills without irrigation.  This results in fairly low yield of fruit that demonstrates great flavour and concentrated intensity.
Furthermore, to avoid damage all fruit is hand-picked in the early morning,  in a smaller containers and then delivered straight to the winery.
Here is a location map of Yarra Yering winery would you decide to visit it by yourself.
---